Book Berna for your next event!
BERNA can be found at a variety of restaurants and gathering places in Pittsburgh... look for her as a featured performer at Mediterrano in the North Hills. Check back often for when and where to see her!
Want Berna to be a part of your event? Contact her here: bernadancer[at]gmail[dot]com.
Berna is available for performance as a soloist and with a group, accompanied by CD or live music. She would be delighted to be part of your next weddng, annversary party, girls night out, birthday, corporate or socal event! Drawng from her years of experience and diverse reptertoi, Berna is a professional artist that will provide a high quality, unique family friendly show for you and your guests.
Consider hiring Berna for 1001 Nights parties, workshops, demonstrations and small group or private lessons. She also works with numerous artists in the Pittsburgh comunity and would be happy to collaborate in story-telling, dance, music and even a henna and face painting party!
Ready to Raq!!! Upcoming Performances: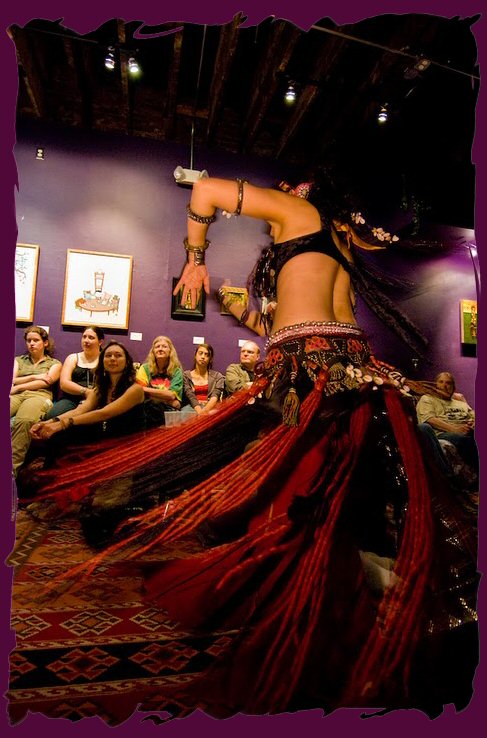 April 30th - Atlas Dreams Celebration and Benefit
Luke Wholey's Alaskan Grille. Performances at 7:00 and 9:00. Advance Tickets Here!


May 10th - World Fair Trade Day
Live Music and a fun event! Enjoy dances by Berna on Forbes Ave. outside of 10,000 Villages! Performances 11:00-12:30 with Tabla al Fadaa and Amun Raqs.
May 16th - Children's Festival Community Stage
Enjoy dances by Berna, La Belle Sultana and friends! Show time is 5:00 pm on the Community Stage Pittsburgh Children's Festival

Past Performances:
2011-2014
Aegela Gala Show

Belly Off -- Pittsburgh Belly Dance Festival

Oasis Hafla -- Pittsburgh

First Night Pittsburgh -- August Wilson Center
Phipps Conservatory
Qaina -- Akron, OH
Legends of Raq -- Event Producer
Children's Museum of Pittsburgh
Beledi Bellies and Friends at Washington and Jefferson College
Casablanca Cabaret in Carnegie
Ishtar's Vintage Bellydance Show @ the Geyer Performing Arts, Scottdale, PA
World Fair Trade Day @ 10,000 Villages in Squirrel Hill
La Belle Sultana, Beledi Bellies and Friends celebrate World Bellydance Day at the International Children's Festival Community Stage
Weekend Workshop and Gala show featuring Kweilin Nassar
Gala show with Lisa Zahiya at Istanbul Cafe
Day in the Middle East featured instructor
Featured Performer First Night at Gypsy Cafe

2010 and Prior
Numerous private parties, weddings and engagements
Duquesne University
Chatham University Convocation, Turkish Celebration
Byham Theater, Haute Pink Pittsburgh
Hard Rock Cafe, Pittsburgh, Legends and Inspirations
International Children's Festival, University of Pittsburgh, Oakland
Silk Screen Festival Red Carpet Gala
Downtown Gallery Crawl, Theater Square Park, Pittsburgh
Istanbul Cafe Halflas
Gypsy Cafe, Bingham Street, Southside
Hookah Bookah, East Carson Street, Southside
Jasmine Middle Eastern Restaurant
Crate Cooking School Middle Eastern Night
Shimmy and Taxim Student and Community Shows
Il Troubadore (Rex Theatre)
Jill Parker Gala Show, Morgantown, WV
QAINA -- A day of dance and music, Akron, OH
Yalla! Gala Dance show featuring Momo Kadous and Moria Chappel, Cleveland, OH
African Arts in the Park, sponsored by Umoja Dance Company
International Evening of Music and Dance -- Goodwill Literacy Initiative