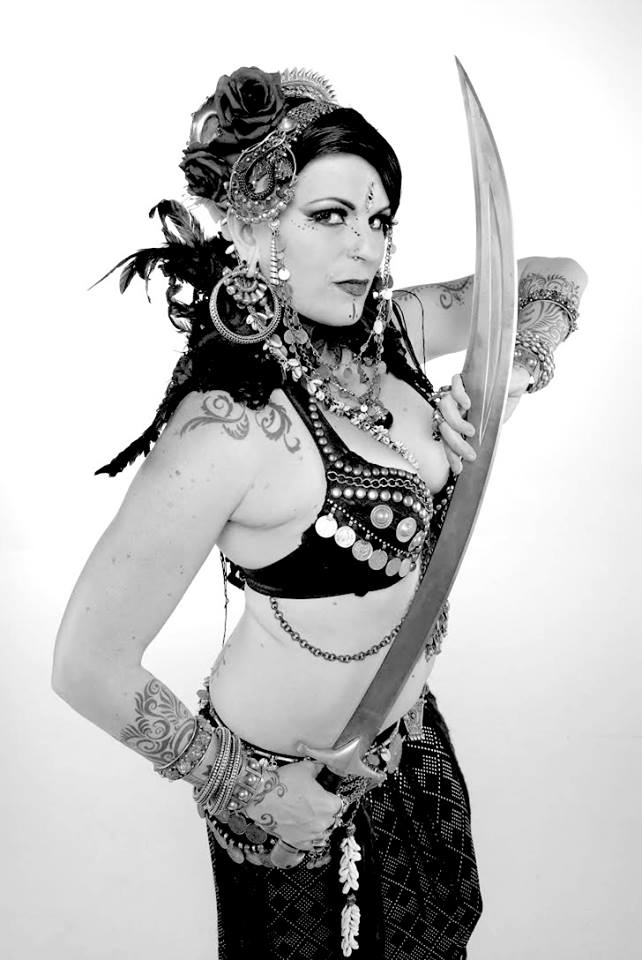 Berna is excited to host the fabulous instructor and performer, Belladonna! Please contact Berna at bernadancer@gmail.com for information about private lessons, performance opportunities and general questions. Can't wait to see you here!
Performance
Saturday Oasis Hafla at Bodiography -- Show at 8pm
Location: 5824 Forbes Ave., Pittsburgh, PA 15217 -- 3rd Floor

Cost: $10
Bellydance show featuring our guest artist BELLADONNA! With performances by Berna and other fabulous regional dance artists.
Workshops with Bella
Friday, July 11, 2014 - 6:30-7:30 | All Levels Workshop
TRIBAL FUSION BELLYDANCE TECHNIQUE (1 hour)

Bella's signature style in a classroom format. Strengthen your dance and work on your technique!
Friday, July 11, 2014 - 7:45-9:45 | All Levels Workshop
INDY and SASSAFRASS FUSION FRAGMENTS (2 hours)

ITS Combos/mini-Choreographies inspired by the desire to harness drama and be percise with technique. A little flirty and a lot fierce, Belladonna brings you two of her favorite Fusion Fragments. The Fusion Fragments are a system of mini choreographies that link together though an ITS (Improv tribal style) language. This bohemian style was created over 8 years ago and just keeps getting bigger and better. In this workshop dancers will be introduced to the Indy and Sassafras Fragments and shown how to seamlessly link them together through a series of connective moves, cues and transitions. Participants will learn new technique, traveling and layering while tying together familuar classics belly dance moves. This workshop is fun, challenging and very rewarding!
Saturday, July 12, 2014 - 1:00-3:00 | All Levels Workshop
DANGEROUS BEAUTY (2 hours)

This workshop is a SWORD CHOREOGRAPHY. an all new sword chorography Belladonna is known as the Baroness of Blades. Master sword performer and belly dance technician. This all new choreography workshop she shares her passion for sword dancing with you. Each movement is imbued with fierce power. Each transition is smooth and sultry, all while helping you to find more polish and precision in your sword performance. Please bring your own sword & knee pads
Saturday, July 12, 2014 - 3:15-5:15 | All Levels Workshop
MASTERPIECE THEATRE (2 hours)

How to make you your masterpiece!Learn to use all aspects of performance to make a true work of art! Belladonna will discuss how to make all of the elements of your performance work together to make you look and feel your best. Includes discussion of themes, characters and storytelling, be it fierce, sultry, dark, or dramatic. In this workshop you will learn to use costuming elements, musical choice, hair and makeup design, staging, and lighting to make you your masterpiece!
Workshop Pricing and Location
Each 2 hour workshop is $50 in advance, $55 at the door. The 1 hour class is $20 in advance, $25 day of depending on availability. Early Bird Special is $150 all weekend!!!
No refunds unless the event is cancelled. Thanks!!

Location: Bodiography Center for Movement -- 5824 Forbes Ave., Pittsburgh, PA 15217 3rd Floor.

Check out hotels located near zip code 15217, there are 3-4, if you are looking for a place to stay out of town. As always, there are dancers in Pittsburgh who host home stays, so join our Facebook page and ask! We'll get you a home away from home!